Wild About Ennis *NEW FOR 2016*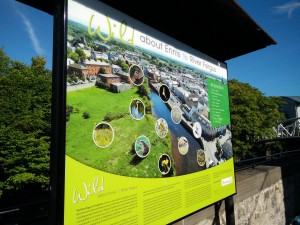 Wild About Ennis
There is a fantastic diversity of wildlife habitats and species within Ennis and its environs, many of which are of high nature conservation value. Eighteen sites are designated and recognised for their nature conservation status. However, other wildlife friendly sites (known as habitats) of high biodiversity value are also found outside of these designated areas. Wildlife species of note include Lesser Horseshoe Bat, Lamprey, otter, over-wintering wildfowl and waders. Hedgerows act as wildlife corridors and are essential for a healthy, vibrant environment.
With this is mind Ennis Tidy Towns is launching an ambitious new project called Wild about Ennis.
The Wild about Ennis initiative has the following objectives:
Develop a Biodiversity Action Plan 2017-2019. Ennis Tidy Towns were successful in applying to the Heritage council in 2016 for a grant to develop this Plan. The Plan will develop a 3 year strategy about how we manage, maintain and promote the biodiversity in our town. Key to this will be engagement with not only the people of Ennis but Clare County Council, National Parks and Wildlife Service and the Business/Voluntary Community to name but a few. We are making a commitment to have this Plan developed by the end of the year and would love you all to take part.
Make www.ennistidytowns.com a one stop shop for all things Wild! A wealth of information about the biodiversity of our towns is currently available but located in a number of different sources. We are in the process of collating all these website and published reports and will make them available here. Some reports are already uploaded and we would encourage you to take a look – you'd be amazed at the wealth of habitats and wildlife on our doorstep. Here's the list so far (click title to open):
Biodiversity Awareness Talks: Committee members and staff from National Parks and Wildlife Service will be hosting a number of talks over 2016 on topics such as invasive species, local bat populations and how to submit biodiversity records online. Stay tuned to our website and Facebook page for more details.
Wild Maps: Below is a list of important wildlife sites within and around Ennis that are afforded legal protection by National and European legislation.
Newhall and Edenvale Complex (site code 2091) – cSAC & pNHA
Ballyallia Lake (site code 14) – cSAC & pNHA
Lower River Shannon (site code 2165) – cSAC
Fergus Estuary and Inner Shannon (site code 2048) – North pNHA
Toonagh Estate (site code 2247) – cSAC
Dromore Woods and Loughs (site code 32) – cSAC & pNHA
Pouladatig Cave (site code 37) – cSAC
River Shannon and River Fergus Estuaries (site code 4077) – SPA
Lough Cleggan (site code 1331) – pNHA
Cahircalla Wood (site code 1001) – pNHA
Inchicronan Lough (site code 38) – pNHA
Newpark House (Ennis) (site code 61) – pNHA
Showcase Projects: Lots of schools and local community groups are doing fantastic work to promote biodiversity in their local area. Are you such a group? If so let us know, we'd love to hear about it. Here are just a couple of examples from around town

Holy Family Primary School – from mini beast projects to plating hazel trees to wildflower gardens this school is a shining light in terms of biodiversity!An Sean Dún – This estate has its own Biodiversity Plan which can be access at www.anseandun.com and have several projects such as a Garden of Eden, Green Infrastructure, Wildflower Meadow, Willow Dome, Green Wall and Pollinator Hotels!                                                                         Nurture Childcare – undertaken extensive environmental awareness education with the toddlers ranging from wildlife, planting flowers to recycling.
We will be continually adding to this page with new information as we receive it. We would love to hear what you think and any ideas you might have. You can contact us by clicking here.
Click here for Bio Diversity Plan  ennis biodiversityplan