Wild About Ennis

There is a fantastic diversity of wildlife habitats and species within Ennis and its environs, many of which are of high nature conservation value. Eighteen sites are designated and recognised for their nature conservation status. However, other wildlife friendly sites, known as habitat, of high biodiversity value are also found outside of these designated areas.
Wildlife species of note include Lesser Horseshoe Bat, Lamprey, otter, over-wintering wildfowl and waders. Hedgerows act as wildlife corridors and are essential for a healthy, vibrant environment.
With this is mind, Ennis Tidy Towns has a number of community -led projects, activities and events to benefit the nature, wildlife, environment and local community as part of the Wild About Ennis, Ennis Biodiversity Action Plan for 2017-2019.
Some of the Wild About Ennis initiatives are as follows: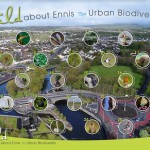 Dedicated resource webpage about Biodiversity in Ennis and advice on small changes you can make to impact your local environment
Community Biodiversity Toolkit to provide easy-to-follow guidelines for enhancing the biodiversity in your community.
Wild About Ennis – Biodiversity Signs showcasing information about the local wildlife for residents and visitors
Free Biodiversity Lecture Series for the public every February and March to raise awareness of the steps everyone can take to impact the environment
In partnership with Garden of Eden Projects, three community orchards have been created in Ennis at Claureen, Lees Road and Ballyalla Lake
Ongoing management and control of Japanese Knotweed to protect the local ecosystem in partnership with Clare County Council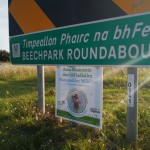 Promoting Biodiversity-led Urban Landscaping practices throughout the town and managing the pollinator friendly roundabouts green space to add to the biodiversity value
A wealth of information about the biodiversity of our towns is currently available but located in a number of different sources. We have collated some published reports and we would encourage you to take a look – you'd be amazed at the wealth of habitats and wildlife on our doorstep. Click to open the reports:
Showcase Projects: Lots of schools and local community groups are doing fantastic work to promote biodiversity in their local area. Are you such a group? If so let us know, we'd love to hear about it. Here are just a couple of examples from around town
Collating and documenting a list of important wildlife sites within and around Ennis that are afforded legal protection by National and European legislation
Newpark House (Ennis) (site code 61) – pNHA
Inchicronan Lough (site code 38) – pNHA
Cahircalla Wood (site code 1001) – pNHA
Lough Cleggan (site code 1331) – pNHA
River Shannon and River Fergus Estuaries (site code 4077) – SPA
Pouladatig Cave (site code 37) – cSAC
Dromore Woods and Loughs (site code 32) – cSAC & pNHA
Toonagh Estate (site code 2247) – cSAC
Fergus Estuary and Inner Shannon (site code 2048) – North pNHA
Lower River Shannon (site code 2165) – cSAC
Ballyallia Lake (site code 14) – cSAC & pNHA
Newhall and Edenvale Complex (site code 2091) – cSAC & pNHA
We will be continually adding to this page with new information. We would love to hear from you on any information or project ideas. View the Ennis Biodiversity Plan by clicking here.