Ennis Tidy Towns would like to extend a warm thank you to all that attended our 3 Year Plan workshop on Tuesday and showed such enthusiasm for the future of our town. The community's views of Strengths and Challenges within the town is essential information to help form our Strategy.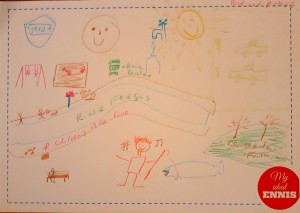 The creativity and artistic ability flowed when those in attendance were asked to create a picture of their 'Ideal Ennis.' Pictured is just one of many drawings which gives the community something to strive for in the coming 3 years.
The brainstorming session that followed generated some fantastic project ideas that were complimentary to both Tidy Towns and the general well-being of Ennis.
The second and final workshop takes place on Tuesday 27th March 27th at 7pm in Waterpark House. This is a great opportunity to give your input on projects for Ennis Tidy Towns to benefit the community.