Heritage of Ennis
Heritage of Ennis
Ennis possesses a wealth of cultural heritage (traced back to the 13th century), architectural wonders and archaeological remains, including some of the best examples of early settlement areas in Europe. Whilst much of this heritage is there to see, some is hidden or intangible.
Our oral heritage is also being preserved by Cuimhneamh an Chláir, the Clare Oral History & Folklore Group.  We are proud to support these groups and below you will see a sample of oral history from our town.  A dedicated interactive audio wall showcasing oral history clips from around the county is also located in the County Museum here in Ennis.
The lanes and bow-ways of the town not only add to the charm, but they have a significant place in our heritage. To help preserve and document this part of Ennis' history, we have developed a dedicated collection of lane and bow-ways names. You can view this on Meitheal Logainm website.
Ennis has a staggering 151 protected structures under the current Ennis and Environs Development Plan (list available to download at www.clarecoco.ie) or an interactive web based viewer of architectural heritage can be accessed here from the National Inventory of Architectural Heritage website.  (http://webgis.buildingsofireland.ie/HistoricEnvironment/index.html).  This showcases the rich built heritage of our town and the efforts made by all to protect and utilise this aspect of our heritage for the appreciation of locals and tourists alike.  The following are just a small selection of interesting buildings around our Town:
O'Connell Monument: The Monument to Daniel O'Connell, erected 1867, is the heart of Ennis and a regular meeting point for friends and family.  It is in the form of a Roman Doric column set on a square-plan base having inset panels and surmounted with a limestone statue of a cloaked figure with raised hand facing up O'Connell Street. The statue stands on a drum decorated with a scroll of shamrocks. Many might not know but it is located on the site of the former courthouse, demolished 1852.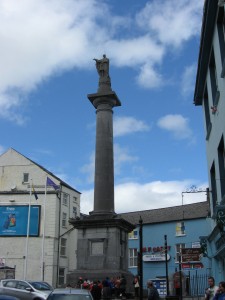 Saint Columba's Church of Ireland Church, Bindon Street: This is classed as a freestanding asymmetrical-plan French-Gothic style Church of Ireland church, dated 1871. The side entrance has two stained glass windows designed by Catherine O'Brien. The architect W.H.Lynn. Built on site donated by the Bindon Blood Family.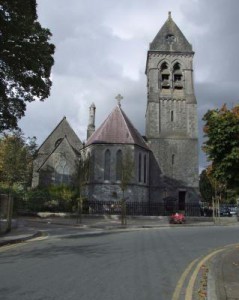 Court House: The Courthouse, built in 1852, is attributed to J.B.Keane and Henry Whitestone. It comprises a pedimented Ionic hexastyle portico approached by nine steps and surrounded by balustrade, flanked by three-bay blocks with advanced end bays – that's a mouthful!. Inside is a marble statue of Michael O' Loghlen (1789-1842), Master of Rolls in Ireland. Outside is a gun from the Crimean War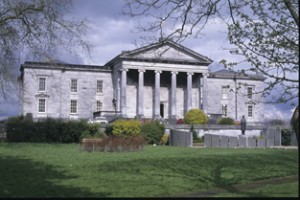 Mill Wheel:  Ennis Civic Trust Ltd., in conjunction with Clare County Council, has just recently completed the restoration of the landmark mill water wheel at the Mill Road, Ennis at a cost of €110,000.  The wood and iron waterwheel, which is a protected structure and a recorded national monument, is the last remaining component of Ennis Corn Mill (later Whiting Mill) which was constructed on the River Fergus during the 1830s and demolished in 1983.  The completed restoration project means that the wheel can now be safely operated and presented as an active heritage project, with the wheel rotating, with due regard for safety and environmental considerations.  Works undertaken include the realignment and treatment of the existing wheel frames, the installation of treated larch paddles and fitted oak starts, the refurbishment and reinstallation of the original mechanical raising system, the installation of an exact replica of the Irish Oak and Elm sluice gate, the construction of a new operator access deck, and the installation of locally produced step ladders and handrails.
Many historical societies such as the Clare Roots Society undertake tremendous research into the history of Ennis with several books published.  The titles include:
The grottos of Ennis and surrounding areas by Mary Fealy-McMahon (Clare Roots Society, 2015)
Cathedral of Sts. Peter and Paul, Ennis by John Bradley (Clare Roots Society, 2015)
Ennis at work in the 19th century : the stories of some occupations and the families connected with them by Lucille Ellis (Clare Roots Society, 2014)
Summerhill Ennis: times past new beginnings by Nuala Kennedy (Clare Roots Society, 2014)
Waterpark House Ennis: from the Big House to Council Chamber by Larry Brennan (Clare Roots Society, 2014)
The history of Ennis Lawn Tennis and Badminton Club 1888- 2013 by Ger Browne (Ennis Lawn Tennis and Badminton Club, 2013)
Ennis by Brian Ó Dálaigh, Brian (Royal Irish Academy, 2012)
Steele's Terrace, Ennis, County Clare : more than a century of history, pictures and memories by Paddy Brennan, 2012.
Ennis in old photographs by Sean Spellissy, 2004.
Ennis Local History Sources 1636 – 1999 by the
Clare Local Studies Project, 1999.
There is also excellent online resources like the Ennis Historic Town App and Ecclesiastical App.