Ennis Activity Sheets
Ennis Fact: The local studies centre, located beside the Library, is also called 'The Manse'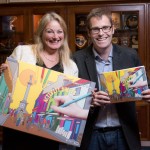 Launched in March 2018, Ennis Tidy Towns has created bespoke Kid's Activity Sheets showcasing life in our town and facts about Ennis. We want to make learning about our town and biodiversity fun for the children of Ennis.
As part of the launch, Ennis Tidy Towns distributed Activity Sheet packs and crayons to local businesses as they are key players in making our town a vibrant and inviting place to live, work and visit.
You can download the Ennis Activity sheets for your children here.