Aluminium Can Showcase Exhibits
This project aims to raise awareness about how materials, such as aluminum cans can be used to create sculpture and works of art to enhance the cultural value of the town.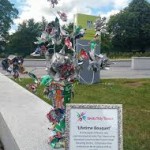 The mosaic drink can, made of actual drink cans,  was just the first of many installations Ennis Tidy Towns collaborated with artists for display throughout Ennis. The mosaic by Lynda Christensen is displayed at the Francis Street Bring Centre and the "Lifetime Bouquet" made of reused cans will be displayed in a variety of public places.
There are plans to progress a similar project using other materials for sculpture in the town such as glass and other metals.