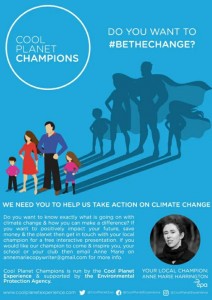 Ennis Tidy Towns are delighted to be joined by Anne Marie Harrington who is our Clare Cool Planet Experience Champion for the next 'Wild About Ennis' Biodiversity Lecture.
Cool Planet is a national initiative that focuses on educating children and adults on the impact of climate change and how we can all make a difference to help.  The first Cool Planet Experience was launched in January 2018 by Sir Richard Branson and has gained the attention of many communities since then. Their aim is to demonstrate that solving climate change can be cool and fun to engage young people.
Make sure you don't miss this FREE workshop on Wednesday 5th March in Waterpark House at 7pm. All are welcome to this event.